NEW PRODUCTS
NEW YETI Fall & Winter Colors are FINALLY HERE!
NEW DRINKS
NEW ON TAP                             
                              SAMUEL ADAMS OCTOBERFEST- 5.3%
                              ANGRY ORCHARD HARD CIDER: CRISP APPLE- 5%
                              NEW BELGIUM VOODOO RANGER IPA – 7.0%
                              TROEGS MAD ELF – 11.0%
NEW BREWS, SELTZER & CIDER:
                            EVER GRAIN DIPA: FUZZY MACKEREL – 8%
                            ANGRY ORCHARD HARD CIDER: CRISP APPLE – 5%
                            LABATT BLUE – 4.7%
   TRY OUR APPLE CIDER HOT TODDY!
NEW IN THE ARCADE
NEW GAME ALERT:
SPIDER-MAN COIN PUSHER
THE SPIDERMAN PUSHER IS AN EXCITING NEW COIN GAME PAYING HOMAGE TO THE LEGENDARY SPIDER-MAN UNIVERSE. THE AUTO-ROTATING COIN-FIRING MECHANISM BRINGS SPIDEY'S WEBSHOOTING POWERS TO LIFE!
COME PLAY TODAY! 
NEW AT HOLOGATE
Carlisle Sports Emporium is bringing the future to Carlisle with an immersive virtual reality experience like no other. The BRAND NEW 4-player HOLOGATE VR delivers an unmatched multiplayer experience, immersing you, your family and your friends into a variety of environments, testing your skills as you battle in player-versus-player (PvP) and player-versus-enemy (PvE) scenarios. Choose from FOUR different game modes SIMURAI, COLD CLASH, ZOMBYTE, GROOVE GUARDIANS and be ready for the new release of THE ANGRY BIRDS 2 MOVIE VR, WORLD OF TANKS VR and DAS BOOT VR.
WHAT'S NEW AT THE BARN
CHECK OUT WHAT'S NEW ON TAP AT THE BARN FOR DECEMBER!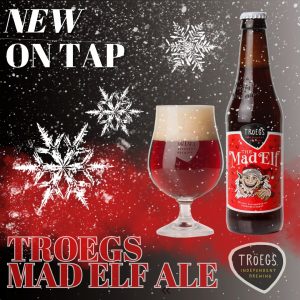 GET SOCIAL WITH US
Connect with us through social media! Follow us on Facebook, Twitter, YouTube, Google+ & Instagram to keep up with all the news, happenings, and special offers. It's also an easy way for you to tell friends about your team victory in Laser Tag or new personal best on the go-kart tracks by "checking in," updating your status, uploading a video, or tweeting. Keep your eyes peeled for all of our upcoming events, new equipment, & latest contests on our social sites!