A Birthday Party Planning Timeline
A Birthday Party Planning Timeline
A great birthday party makes memories that will last a lifetime. To put on a memorable party, you need to plan ahead. From finding the right venue to setting a date, sending invitations and choosing a theme, you have a lot of decisions to make before the big day.
To ensure you get everything sent, reserved and planned on time, follow our party timeline checklist, which lays out the entire process, starting two months beforehand. Follow this guide to help you have an unforgettable celebration!
Two Months Before the Party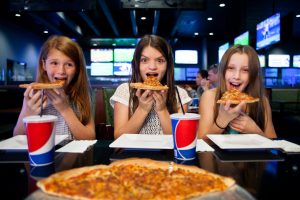 The first thing you need to do for your party is set a date — or rather, set several dates. You need a first, second and third choice. Then, you can approach your chosen venue and see if it is available on one of those dates at the time you want. Once you have reserved the party location, you can move on to other tasks, such as:
Deciding whether you'll send invitations through the mail or digitally
Narrowing down the guest list
One Month Before the Party
While it may seem early to buy party decorations, getting this out of the way well in advance leads to less last-minute panic. If you realize you don't have something, such as party hats or streamers, you still have plenty of time to get it.
Fill out your party invitations, whether they're online or printed. Make sure to include the location of the party, the venue's address, your phone number and any other information people need to know. Ask guests to RSVP by at least three to five days before the event, depending on when you need the final count for the venue.
Three Weeks Before the Party
Are you giving out party bags at your celebration? Buy the items for them and assemble them ahead of time to cut down on your prep work for the week of the party. You should also make a list of the games you plan to play at the party and the rules you want people to follow. Other tasks to take care of now include:
Ordering the cake from the bakery
Buying supplies for the games
Deciding on a menu and ordering the food ahead of time, if necessary
Less Than a Week Before the Party
Follow up with anyone who hasn't RSVP'd, then provide a final headcount to your venue when you call to confirm your reservation. Shop for any food you need for the big day — and don't forget the paper supplies, such as napkins and plates. Put a knife to cut the cake into your party day bag, too.
On the Party Day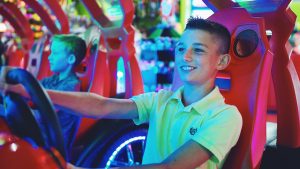 Pick up balloons and flowers on the way to the venue. Add candles and a lighter to your party 
bag to bring to the venue, and trust that the staff there has taken care of everything else.
Plan the perfect party by following this checklist, and remember to check with Carlisle Sports Emporium for lots of birthday party options. We even rent private rooms for parties, and our staff can work with you to help customize the experience for your group. Contact us today for more information.