Spring Events in Central PA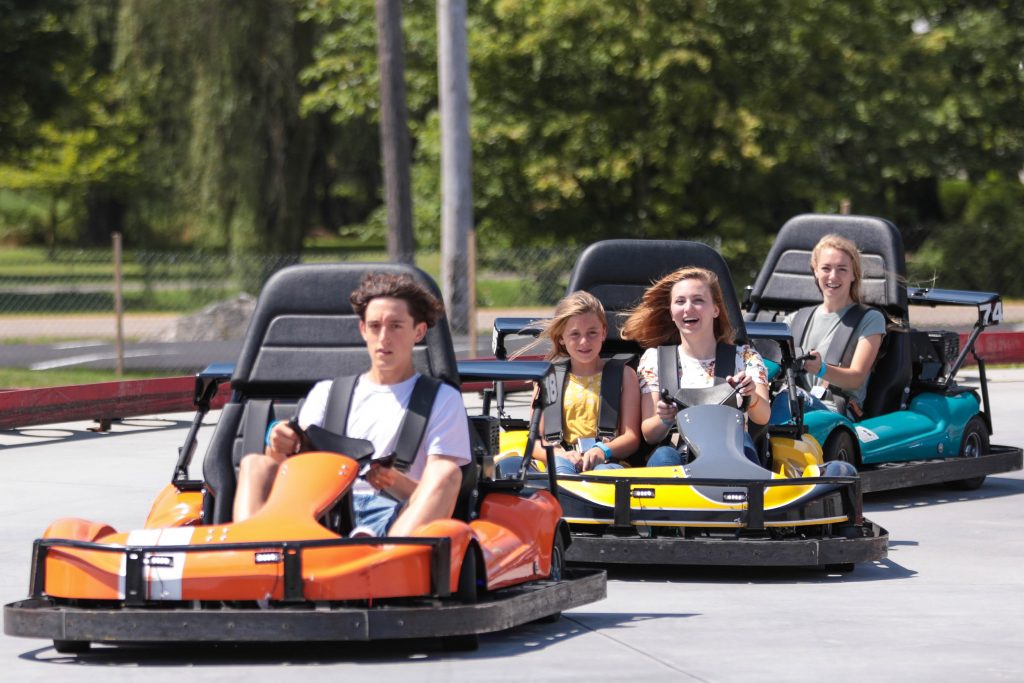 With spring comes a range of fun activities in Central Pennsylvania that can keep your family busy from March through May. Use our guide to plan your spring flings throughout the area, including several activities on the calendar at Carlisle Sports Emporium.
Zembo Shrine Circus
Everyone loves the circus, and you have 10 opportunities to see the excellent Zembo Shrine Circus in March. The show includes the beloved Zembo Shrine clowns and pony rides at intermission.
Dates: March 11 to 15
Location: Zembo Shrine Center in Harrisburg
First Day of Spring Special
Spring is the perfect time to hit the go-kart track, and on the first day of spring, you can do it for free. Get a Grand Prix go-kart race on the house when you visit.
Date: March 20
Location: Carlisle Sports Emporium
Jurassic World Themed Public Skate Night
You can have dinosaur-sized enjoyment when you take your family and friends to our special skate night, from 6 to 8:30 p.m. Ask us to play your favorite songs while you whiz around the skating rink.
Date: April 3
Location: Carlisle Sports Emporium
Harrisburg Beer Week
Are you an IPA aficionado or stout lover? If so, you'll enjoy sampling brews throughout the area during Harrisburg Beer Week. Breweries, restaurants and other locations will sponsor craft brew events.
Dates: April 17 to 26
Location: Across Central PA
Dills Celtic Festival
Experience the tastes, sights and special events of Celtic culture in Dillsburg at the third annual Dills Celtic Festival. The festivities will include a performance by JigJam, an Irish quartet.
Date: April 18
Location: Dills Tavern and Plantation
Spring Carlisle
Did you know that one of the world's largest auto flea markets happens in Carlisle each April? You can find parts, accessories, memorabilia and more at Spring Carlisle, which will feature an appearance by MotorTrend TV host Lou Santiago.
Dates: April 22 to 26
Location: Carlisle Fairgrounds
Cinco de Mayo
What's the best way to celebrate this holiday? With $5 specials on your favorite entertainment, of course. Starting at 5 p.m., we'll offer deals on go-kart racing, mini golf and virtual reality.
Date: May 5
Location: Carlisle Sports Emporium
Carlisle Import & Performance Nationals
Need another auto fix? Carlisle Events hosts the Carlisle Import & Performance Nationals in mid-May, featuring more than 2,300 vehicles. You can watch competitions, such as autocross and drifting, or see the exciting lineup of kit cars, imports, domestics and more.
Date: May 15 to 17
Location: Carlisle Fairgrounds
PA Greek Fest
The annual PA Greek Fest is one of Central PA's most popular events, drawing people from all around to enjoy the Greek dancing and other events while they dine on authentic Greek cuisine.
Date: May 15 to 17
Location: Holy Trinity Greek Orthodox Cathedral in Camp Hill
Memorial Day Special
To celebrate Memorial Day, we'll give customers who buy an attraction of equal or greater value a free virtual reality experience.
Date: May 22
Location: Carlisle Sports Emporium
This area has a full slate of fun activities for spring. We hope you'll visit Carlisle Sports Emporium to add even more excitement to your spring season.