Virtual Reality: A New Dimension
Our customers are loving our HOLOGATE Virtual Reality, so we've decided to give them more of what they want!
HOLOGATE VR – GROOVE GUARDIANS
Among the live game modes of Simurai, Zombyte & Cold Clash, the newest game mode, Groove Guardians has just hit the floor running with its electrifying music and full-body gameplay.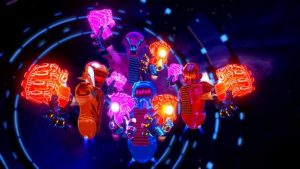 Groove Guardians proves to be yet another favorite game mode that is perfect for all ages and is sure to be everyone's new favorite dance game. Bring your friends to the Carlisle Sports Emporium for an unforgettable dance battle today! We are anxiously awaiting more exciting game modes on HOLOGATE, such as Das Boot, World of Tanks, & Angry Birds, all coming soon!
VIRTUAL RABBIDS: THE BIG RIDE:
Since VR has been such a huge customer hit, we are excited to announce the arrival of another must-play virtual reality system to join the Carlisle Sports Emporium arcade, Virtual Rabbids: The Big Ride! This game features three exciting, unique ride experiences: Alpine Adventure, Canyon Chaos, & Holiday Hijinks. Each ride offers amazing 360-degree vision with action in every direction as riders are immersed in a completely original experience every time.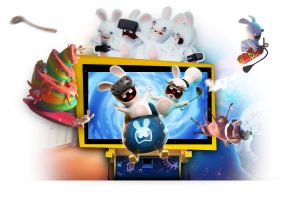 The well-known, unpredictable Rabbids took over gaming systems with their unique characteristics in 2006 and have since been featured in over 14 million video games. 
These mysterious creatures are constantly creating mayhem as they explore the human world. Virtual Rabbids: The Big Ride offers an exciting, unpredictable ride as the crazy Rabbids find fun, while wreaking havoc wherever they go!
LAI Games worked hard to provide a Virtual Reality game that allows customers to swipe and ride on their own, with special features at every turn. We feel they hit the jackpot with this 2-player VR system.  Embrace the character options of Rabbid Bobsleigh, Pilot, Flight Attendant, or Reindeer, depending on the ride you choose. Hold on for the craziest VR ride full of twists, turns, thrills and spills!
ADDITIONAL ATTRACTIONS:
Carlisle Sports Emporium now offers Virtual Reality Birthday Parties – Call today to get pricing & package details! PLUS, Carlisle Sports Emporium is not just an arcade! We offer Go-karts, Laser Tag, Roller Skating, Mini Golf & More!